Review:

2019 Nissan Rogue
Performance

4.0 of 5.0

Comfort

4.1 of 5.0

Interior

4.1 of 5.0

Exterior

4.0 of 5.0
LIKES
Lots of standard safety tech
Can drive itself, at least a little
Great interior space utilization
Rides well
Optional hybrid
DISLIKES
Light on power
Transmission drones on and on
Hardly fun to drive
The base model looks very basic
Hybrid's not that thrifty
The 2019 Nissan Rogue is an unlikely springboard for some of the automaker's most advanced technology on the road to self-driving cars. This five-seat crossover ranges from relatively basic, inexpensive family transportation to a high-tech showcase.
We've rated the Rogue 6.5 out of 10 for its hefty dose of standard and optional safety and high-tech features, as well as its good interior packaging.
As a crossover, the Rogue is about average in terms of its driving dynamics, fuel economy, and overall feel. But its score is elevated thanks in part to a massive tech upgrade this year. The Rogue is available in S, SV, and SL trim levels, the latter of which can be newly upgraded with the automaker's ProPilot Assist technology that can automatically accelerate, brake, and maintain the crossover's distance from other vehicles with no driver intervention in certain situations.
That's not to say that the rest of the 2019 Rogue lineup was left out this year. An updated infotainment system includes Apple Car Play and Android Auto at every Rogue price point, a power liftgate operated by the kick of a foot under the rear bumper is standard on SV and SL trim levels, and there are two new paint colors.
Additionally, the previously optional third row that expanded the Rogue's seating capacity to seven has been dropped. For 2019, all Rogues are five-sweaters, and that's just fine with us since the third row was exceptionally confining.
The Rogue Hybrid returns 2019 with fuel economy figures as much as 6 mpg higher than the standard version, although it's limited mostly to coastal and Rocky Mountain markets.
Confusingly, Nissan sells a smaller, less-powerful crossover called the Rogue Sport that's cheaper but certainly not sportier.
All Rogues but the hybrid share a 2.5-liter inline-4 rated at 170 horsepower that either shuttles power to the front wheels or all four via a continuously variable transmission. Although relatively fuel efficient at up to 29 mpg combined, the Rogue can feel a little pokey with a full load of passengers aboard. Its handling is safe but hardly entertaining, and its ride quality is good but not outstanding.
Inside, the base Rogue S trim feels basic, although this year's new 7.0-inch touchscreen infotainment system is a nice upgrade. The Rogue SV is the most popular trim level and its power driver's seat, dual-zone automatic climate control, and keyless ignition are nice upgrades. The range-topping Rogue SL borders on luxurious when outfitted with optional quilted leather and it's the only one available with ProPilot Assist.
But every Rogue comes from the factory with an unusually high level of standard safety equipment: automatic emergency braking, blind-spot monitors, and rear-cross traffic alerts are standard across the lineup. A surround-view camera system is optional on SV and standard on SL.
The 2019 Nissan Rogue is handsome but unadventurous.
The 2019 Nissan Rogue isn't the crossover for extroverts. Its styling is clean and crisp, but it hardly stands out from the crowd.
If that's your thing, it's just right for you. But we can't rate it above average for either its interior or its exterior.
ward the rearmost roof pillar and dainty unpainted fender flares that hint at the kind of rugged lifestyle most of these vehicles will never live.
Base Rogue S trim levels lack tinted windows and have plastic hubcaps that look positively downmarket, but SV and SL are dressier and have more chrome touches outside.
Inside, the Rogue's interior is handsome and its controls are placed in a logical manner. A 7.0-inch touchscreen takes up a good amount of center stack real estate and it benefits from newly standard Apple CarPlay and Android Auto this year. Rogue SLs are available with dressier leather trim and the extra-cost SL Platinum Reserve package tosses in quilted hides for a snazzier look.
The 2019 Nissan Rogue comes up short on power, but it rides well and is easy to drive.
The 2019 Nissan Rogue has a comfortable ride thanks to a relatively long wheelbase, but its transmission can drone on. Accordingly, we've assigned the Rogue's ride a point and then taken one back for the transmission, which leads us to a 5 out of 10 overall here.
Unlike some competitors, the 2019 Rogue isn't available with a manual transmission or a turbocharged engine. Under the hood of most Rogues sits a 2.5-liter inline-4 rated at 170 horsepower and 175 pound-feet of torque that shuttles power to either the front wheels or, for $1,350 more, to all four via a continuously variable transmission (CVT).
It's not a thrilling setup, but the inline-4 delivers a good off-the-line response. Dig deeper into the throttle and the transmission keeps the engine revving loudly. Unlike the rivaling Subaru Forester's CVT, the Rogue's lacks paddle shifters and fixed-ratio points, which act like gears to provide a more predictable response.
A Rogue Hybrid with a gasoline-electric powertrain is available. It pairs a 30-kW electric motor and lithium-ion batteries for a net of 176 hp, which provides it with acceleration about on par with the non-hybrid version.
There's an Eco mode accessible at the tap of a button buried by the driver's left foot that helps keep revs low, but it also dulls throttle response considerably.
The Rogue's three-spoke steering wheel suggests a sporty demeanor with its racecar-inspired flat bottom, but there's little feedback from the road and considerable lean into corners. That's not to say that the Rogue is sloppy to drive, but the flat-bottom steering wheel is a tease.
Rogues with the standard 17-inch wheel setup ride softly, while the optional 18- and 19-inches firm things up a bit. Regardless of wheel choice, the Rogue's ride is composed and comfortable on any kind of pavement.
Rogues with all-wheel drive make good four-season haulers and they boast 8.4 inches of ground clearance. That's helpful for making your way to a trailhead, but the street-oriented tires and long overhangs are reminders that this crossover is primarily intended for suburbia.
The 2019 Nissan Rogue makes good use of its interior space for humans and their gear.
Although the 2019 Nissan Rogue is now a five-seater, we don't think anyone will miss last year's optional third row. What's left is a vehicle comfortable for five that makes good use of its capacious cargo space.
We've rated it at 8 out of 10 with points above average for supportive, multi-adjustable front seats, a stretch-out room in the second row, and a configurable cargo area with lots of smaller item storage.
The Rogue S can feel a little low-rent inside with its dearth of soft-touch plastics and sea of black carpet and fabric, but models we've tested have felt tightly assembled. The Rogue SV keeps the cloth but adds a power driver's seat with optional memory and heated front seats (a rarity at this price point), plus some snazzier interior trim. Rogue SLs come with leather and offer a quilted pattern as an optional extra.
The Rogue's second row slides fore and aft to open up either more cargo or more leg room and it has a convenient 40/20/40-split-fold seatback. Flop the second row down entirely and there are an even 70 cubic feet of cargo space. With the second row upright, that shrinks to a still impressive 39.3 cubes. Moreover, the cargo floor panel pulls up to reveal a few extra storage bins to hide wet or dirty items like ice for juice boxes and muddy soccer cleats.
Last year's optional third row won't be missed; if you need more than five seatbelts, Nissan's own Pathfinder is a far better choice.
The 2019 Nissan Rogue brings self-driving cars to the masses—well, sort of.
The 2019 Nissan Rogue comes standard with an unusually high level of collision-avoidance tech and when properly equipped, can even drive itself for short distances.
That's a high level of technology, but the Rogue earns just 7 out of 10 here. It gets one above average for an IIHS Top Safety Pick award, another for its standard safety gear, and one for its available Pro Pilot Assist. However, it loses a full point for a weak four-star overall score from the feds.
All versions of the 2019 Rogue come with six airbags, automatic emergency braking, blind-spot monitors, rear cross-traffic alerts, and a rearview camera. Pick the Sun and Sound Touring Package on the Rogue SV and you'll gain a surround-view camera system that uses four cameras to stitch together what's going on at every corner, plus adaptive cruise control. The less costly SV Premium Package forgoes the 360-degree setup but now include adaptive cruise control this year.
Rogue SLs include pedestrian detection for their automatic emergency braking, lane departure warnings, and active lane control.
This year's new SL Platinum Package adds adaptive cruise control plus the company's ProPilot Assist system that can bring the Rogue to a complete stop and then start it up again in traffic while keeping a set distance from the car ahead. It also allows for limited hands-off driving on single-lane highways.
ProPilot Assist's real-world utility is somewhat limited, but it's a big step toward self-driving cars and it's still unheard of at a price point of around $35,000.
The IIHS has subjected the Rogue to its full barrage of testing and the insurance industry-funded group says the crossover earns its Top Safety Pick award as long as the LED headlights optional on the Rogue SL trim level are selected. The halogen headlights found on every other Rogue rate "Poor" according to the IIHS.
The feds, meanwhile, give the Rogue an eyebrow-raising four stars: four for frontal crash and rollover and five for side-impact.
The 2019 Nissan Rogue offers a lot of tech for the money—and even more this year with a new self-driving feature.
The 2019 Nissan Rogue earns points from us based on its optional extras, its newly standard Apple CarPlay and Android Auto paired with a 7.0-inch screen, and its new-for-2019 killer app: the ability to drive on its own with no human intervention for short distances.
That's an 8 out of 10 on our scale.
Like any new technology, the Rogue's big step toward self-driving cars makes it a pricey proposition, but the base model isn't so shabby this year.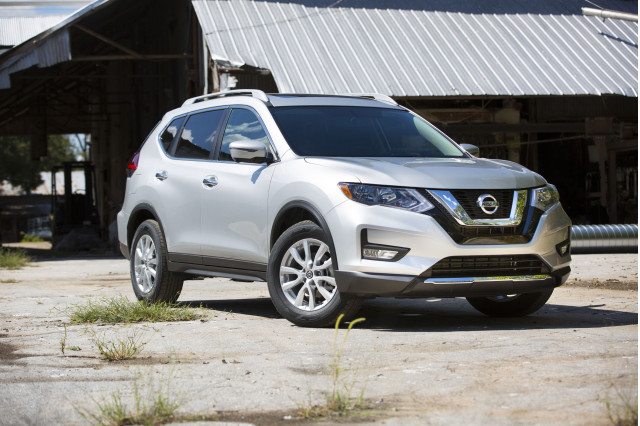 The lineup starts with the Rogue S at around $25,500 (plus $1,350 to add all-wheel drive to any trim). It's fitted with power windows and locks, keyless entry, and a four-speaker stereo with a 7.0-inch touchscreen, Apple CarPlay, Android Auto, and Bluetooth. An S Value Package adds heated seats, a roof rack, and a few other goodies.
The Rogue SV builds on the S with two additional speakers, a power driver's seat, alloy wheels, and tinted windows. A handful of option packages begin to pile on the luxuries like a panoramic moonroof, Bose audio, built-in navigation, a surround view camera system, a heated steering wheel, a power driver's seat, and adaptive cruise control.
Optional on the Rogue SV is the Midnight Package that swathes every bit of the crossover's chrome trim and its 17-inch alloy wheels in shiny black paint.
The Rogue SL tops the lineup with standard leather upholstery, adaptive cruise control, and navigation. Its big news this year is the new SL Platinum Package that includes the automaker's ProPilot Assist technology that can drive the vehicle on its own over short distances and in certain single-lane highway situations. The tech is limited in its real-world usefulness, but it is a big step toward self-driving cars and it's not something we've seen at a price point of around $35,000 until now.
The Rogue Hybrid is available in SV and SL trims that mostly mirror the non-hybrid version of Nissan's compact crossover.
The 2019 Nissan Rogue offers above-average fuel economy.
At up to 29 mpg combined, the 2019 Nissan Rogue is one of the thriftiest compact crossovers around—and that's not accounting for the 2019 Rogue Hybrid.
We rate the lineup at 7 out of 10, a score that applies to both fronts- and all-wheel drive 2019 Rogues.
Predictably, the front-wheel-drive Rogue is less thirsty thanks to its lighter weight and reduced mechanical complexity. The EPA rates it at 26 mpg city, 33 highway, 29 combined.
Opting for all-wheel drive dents those figures to 25/32/27 mpg.
The 2019 Rogue Hybrid is rated at 33/35/34 mpg with front-drive and 31/34/33 mpg with all-wheel drive, improvements that help justify its $1,000 price premium.
The Rogue includes an Eco mode that dials back throttle response, but we haven't noticed a significant improvement in real-world fuel economy.
Other Review
video Review